Tallebudgera Valley Community Hall
611 Tallebudgera Creek Rd, Tallebudgera Valley
Sat 19 May, 2012
7:00 PM – 10:00 PM
Advance tickets only $15 + booking fee through MOSHTIX – Click Here
Some awesome news just in from Matty James regarding the gig this Sat night at theTally Valley Hall…
They have Been rehearsing it up & have added OJ "Juice" Newcomb the bass Player & Trumpet man from Afro Dizzi Act & Band Of Frequencies !

So the Sound IS Going To Be BIG Phat & Juicy !
In Matty's words "Yes Party People its Official We Are Gettin Our Tribal Funk Flavours On @ The Tallebudgera Valley Community Hall On the Gold Coast this Sat Night 19th of May With "OJ" Juice On Bass, Trumpet & Matt Aitchinson on Drums, Percussion, Keys & Matty James On Percusion, Flutes, Yidiki, Guitars ….We starting the Evening with a Chilly Chill Set then Second Set will be over an Hour Of Funky House Jungle BEats
With Thumpin Bass n Lots Of Treats to party on!  
Hope to see you there, its Gunna Be Bangin & Bouncing"
These amazing multi-instrumental performers have joined their exceptional musical talents to bring you an uplifting night of music.
Check Matt James out live…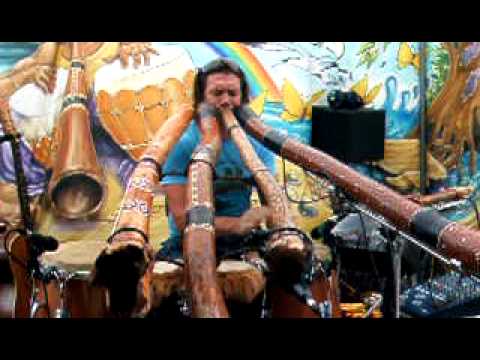 ---
Advance tickets only $15 + booking fee…. Book your Tickets Now through MOSHTIX – Click Here
Door tickets $20 adults, children under 13 FREE
This unique show will comprise two sets – the first a deep, meditative and ambient downtempo set, and the second full of free-flowing upbeat dance tunes to get your groove on and enliven your soul.
The deep vibrations of the didgeridoo will soar with rhythmic drums and percussion, soulful guitar, serenading flutes and vocals.  The music will wind a path through many flavours of rhythm and melody, rich tribal grooves and lush soundscapes.
At the very heart of Matt James' music lies his powerful ability to transform the vibrations of the didgeridoo into a symphony of sounds. Stemming from tribal roots and blending many musical styles, Matt's music is truly eclectic and powerful.
As Matt James' amazing music evolves, one thing remains constant, his passion – the driving force behind the energy of his music. When you see him perform you feel elevated . . . it is purely from the heart.
More info: mattjames.com.au
Best known in this part of the world for his work over 6 years and 4 albums with world music group Oka, Matt Aitchison now composes music for film and television, as well as producing artists in the Byron Bay area, performing and recording under the name Favourite Son.  A drummer, songwriter, keyboardist and singer, Matt's musical touch is unique and unmistakable.
More info: www.unbeaten.com.au
---
Advance tickets only $15 + booking fee through MOSHTIX – Click Here
Adult door tickets $20, children under 13 FREE
This is an an All Ages non alcohol family event with delicious food and drinks available by "The Healthy Gourmet"
Doors open 6.30pm, show starts 7pm thru till 10pm
---
Share on Facebook