Saturday 9th June        4pm – 8pm    (doors open 3.30pm)
Tallebudgera Valley Community Hall
Tickets $12 + bf in advance thru MOSHTIX Phone: 1300 438 849 or book online - Click Here 
or $16 at door, children under 13 FREE
The Lamplightsare a band you can't help but love at first listen. Playing an organic blend of folk, funk, roots, and blues with pop undertones, this fresh, energetic band from the Gold Coast are a pleasure to experience.
The Lamplights have been receiving accolades from audiences and music professionals alike, and recently won awards in three different categories at the 2011 Australian Songwriting Contest, a feat no other songwriter has achieved in the 31 year history of the awards.
With a genuine joy in writing and sharing music, they deliver songs that have a positive impact on everyone who hears them. The band pride themselves on leaving their audiences feeling positive, inspired and empowered.
Lead by charismatic front man, Ryan Gittoes, The Lamplights play music with talent, integrity and the best of intentions. With tangible chemistry and world-class musicianship, Jason McGregor (current Australian Fingerpicking Guitar Champion), Ashley Perrow (guitar, slide guitar), Mattie Barker (bass, harmonica) and Mik Easterman (drums) lift the hearts and hopes of everyone who hears them.
Check out the Lamplights live on You Tube below.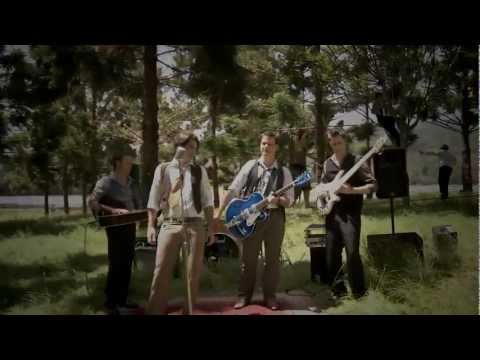 The Lamplights not only write great songs, but every performance is delivered with honesty, integrity and heart. They're not a band who just go through the motions of performance they ride the crests and troughs of the songs along with their audiences and their live shows are a true 'shared' experience between the band and their fans.
The Lamplights have laid their foundations on the belief that quality songs lead to quality performances and their strong work ethic is rapidly earning them a reputation as one of the must-see live shows in the country.
They've received repeated airplay across Australia on ABC Radio and their music has also been added to the playlists of some major department stores throughout the country. Their diverse influences and universal appeal has resulted in the band being heard on radio stations in New Zealand, Italy, France, Germany, The Netherlands, Norway, Sweden, England, Ireland, Spain, Portugal, and as far away as Macedonia and Belgium.
---
Tickets $12 + bf in advance thru MOSHTIX, Phone 1300 438 849 or online – Click Here
or $16 at door, children under 13 FREE (This is an all ages family friendly event)
Doors open 3.30pm, Concert: 4pm – 8pm
Delicious food, non alcoholic drinks and chai available
Tallebudgera Valley Community Hall
611 Tallebudgera Creek Rd, Tallebudgera Valley
(Take exit 89 from M1 Motorway, turn right at T-intersection traffic lights, hall is 7.2kms on the left)
Click Location to see a map.
For more info on The Lamplights, please visit their website by clicking here.
Share on Facebook